Lamella Pendant Lamp - no. 4
The LAMELLA lighting collection is inspired by the delicate pleats on the underside of mushroom caps commonly known as lamella. Modern design and at the same time a timeless classic.
Pendant providing a diffused warm glow; to be hard wired into the ceiling. Production Process: The pleated lamp shade is still at the very heart of the 75-year-old design company. To this day the craftsmanship of the cross pleated lamp shade is unique and is a handicraft that is only mastered at Le Klint's original Pleating Studio in Odense, Denmark. To become a skilled pleating technician at Le Klint takes approximately three years and most of the employees in the pleating studio have been with the company for more than 25 years. Due to the vast experience within this group, they are often consulted when new ideas are brought to the table. All parts are made from the best materials and often produced by local companies situated close to Le Klint. The parts are put together at the facility in Odense and shipped from here to all parts of the world.
Hand folded PVC plastic shade; gold or silver finished aluminum frame; PVC cord.
H:11"xØ:8.26"
Shade size: 8.26"
Canopy size: Ø:5.5"
Weight: 4 lbs
Fixture: E12
Cord length: 118" Cord material: PVC
Environment: Indoor
Design by: Hallgeir Homstvedt & Jonah Takagi
Design year: 2014
Designers Hallgeir Homstvedt and Jonah Takagi are well-known in the world of design for their unique and innovative creations. Hallgeir Homstvedt is a Norwegian designer known for his functional and minimalistic designs that often incorporate natural materials and textures. He has worked with numerous brands such as Muuto, Jotun, and Lexon. Jonah Takagi, on the other hand, is an American designer with a focus on furniture, lighting, and product design. His work is characterized by its simplicity, functionality, and playful use of color. Takagi has worked with a number of well-known brands including Umbra Shift, Roll & Hill, and Matter Made. Together, these two designers have created an impressive portfolio of work that continues to push the boundaries of modern design.
Dust with soft dry cloth or brush, or wipe with damp cloth using water only. Always switch off electricity supply before cleaning .Be aware that the use of detergents and alcohol can damage the paint on the metal rings.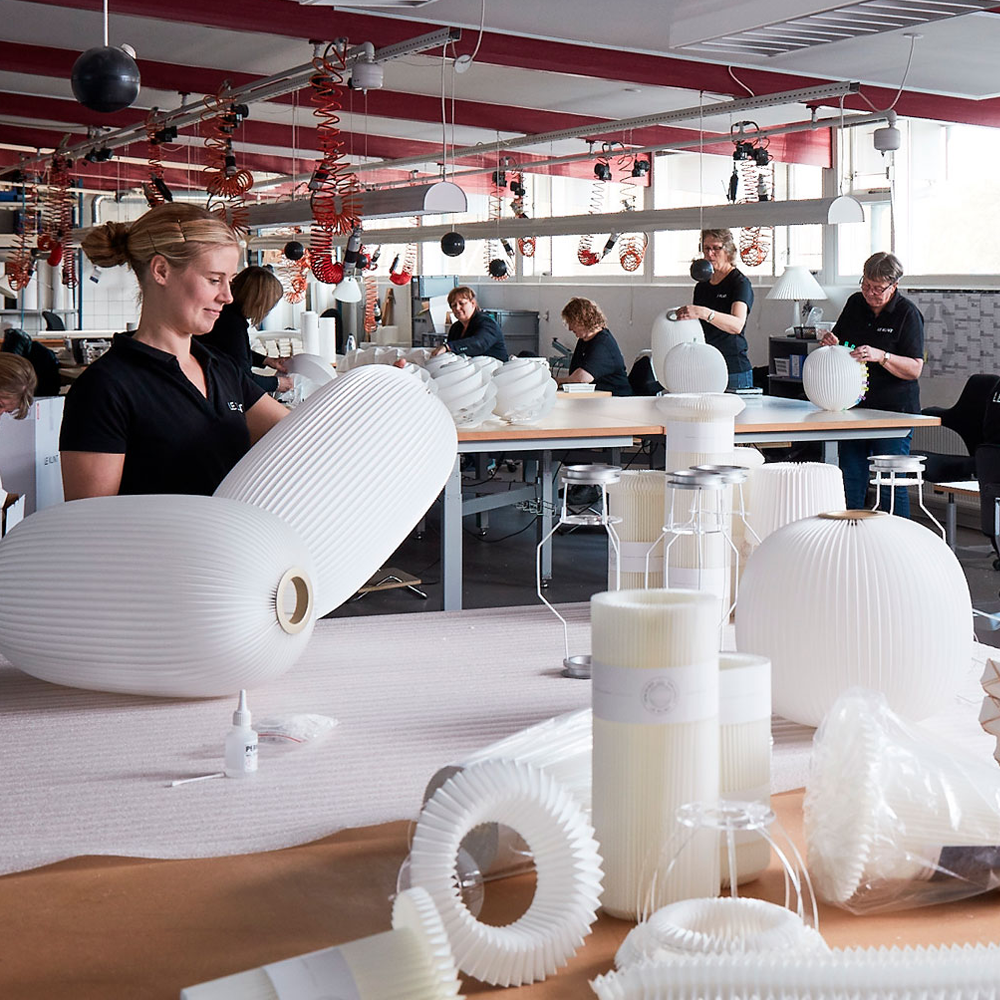 Le Klint
The story of Le Klint is not merely the story of a company, but also a reflection of the history of design and lighting technology spanning the entire 20th century and into the 21st.