Ensure the ambiance is right with Manhattan SC52, a portable table lamp from Space Copenhagen. Its industrial-inspired base is made from anodized aluminium with a columned detailing; a cream-colored canvas shade sits atop. This battery-powered lamp can operate for eleven hours at the highest setting, with an extra battery option that allows additional operating. It is easily recharged with a magnetic USB cable or a charging tray. Production Process: The base is made from extruded aluminum. Battery compartment is made from moulded ABS. The shade is made from canvas.
Aluminium, Canvas, ABS
Ø:5.1" x H:9.9"
Weight: 1.1 lbs
Fixture: LED
Dimmable: Three Level
Cord length: 78.7"
Environment: Indoor
IP Rating: IP20
Design by: Space Copenhagen
Design year: 2020
Space Copenhagen is a Danish design team that has become renowned for their unique and innovative approach to modern design. Founded in 2005 by Signe Bindslev Henriksen and Peter Bundgaard Rützou, the duo has quickly made a name for themselves in the design world with their strikingly beautiful and functional creations. Their work often features organic shapes and natural materials, with a focus on simplicity and elegance. From furniture and lighting to interiors and architecture, Space Copenhagen's designs are known for their timeless quality and ability to create an atmosphere of calm and sophistication.
Wipe surface of the shade with a dry cloth. Do not use any abrasive cleaning tools such as steel wool, scouring sponges or stiff brushes. Never use strong cleaning agents such as white spirit, turpentine, household glass cleaner or cellulose thinners.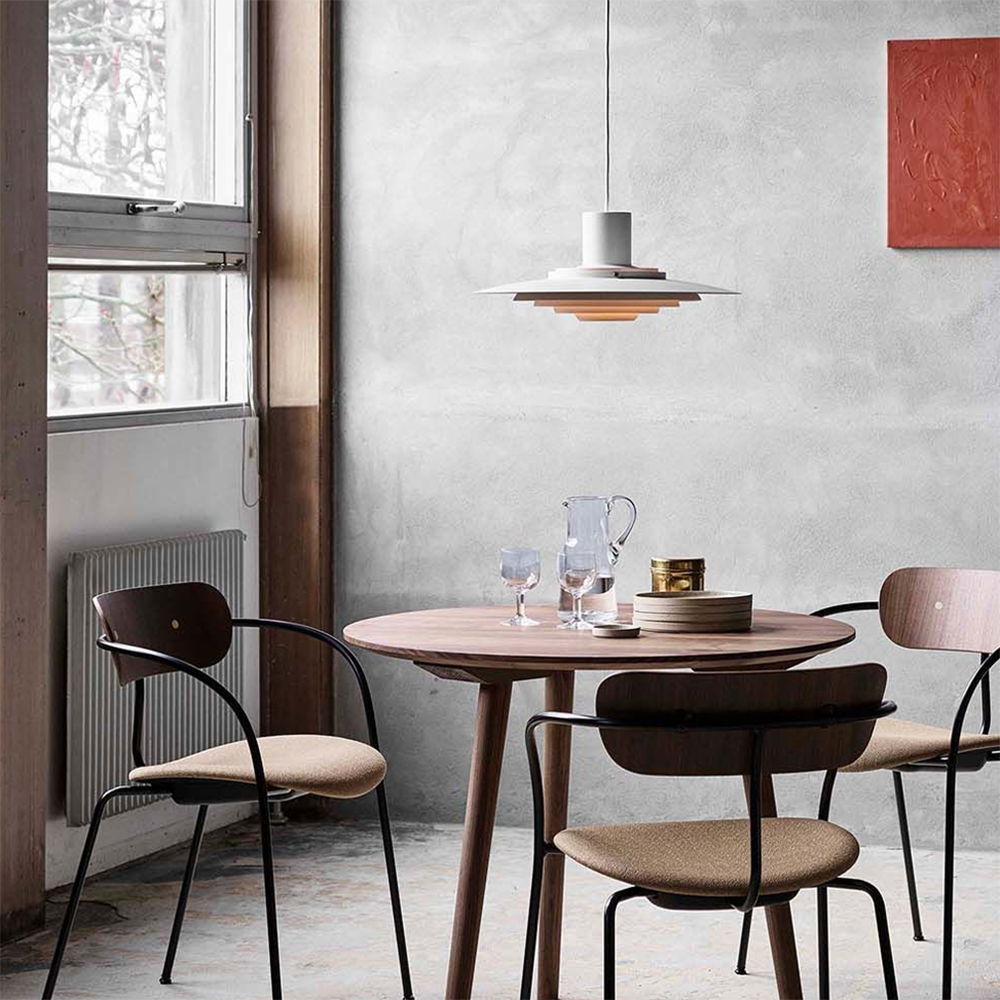 &Tradition
&Tradition is an exciting Danish design company established in 2010 whose founding principle is to tie Nordic tradition to innovation. Their unique library of furniture and lighting spans from the 1930s to the present day and includes works by internationally renowned designers.

Holiday Shipping
Need it there by 12/23?
If shipping west of the Mississippi, place your order by 12/14
If shipping east of the Mississippi, order by 12/18
We cannot guarantee these dates for delivery to addresses outside the contiguous 48 states.