Model 548
Choose:
Dark Burnished Brass - Grey Diffuser
Permanent Stock
Permanent Stock
Permanent Stock
Permanent Stock
This table lamp from 1951 shows how Gino Sarfatti explored balance and light reflection through a screen. Model 548 has a movable spotlight that shines on a reflecting screen, creating both reflected and diffused light. The big diffuser in orange, blue or white methacrylate makes a sophisticated light effect and adds to the illusion and the perception game. The spotlight in white aluminum sits on a tubular stem in shiny or dull brass, and a small brass bar at the base acts as a counterweight in the elegant balance of Model 548's parts. In the new version, the old bulb is replaced by an LED, and an optical dimmer switch is hidden in the original design.
Brass Structure, Opaline Methacrylate Diffuser
Max Wattage: 11w
Dimmable: Yes
Environment: Indoor
IP Rating: IP20
Design by: Gino Sarfatti
Design year: 1951/2013
Gino Sarfatti is one of the most significant figures in the history of Italian industrial design. Throughout his career he developed more than 700 luminaires as the creative engine behind Arteluce, the company he founded in 1939 which brought premier lighting into the 20th century combining innovative ideas with groundbreaking design.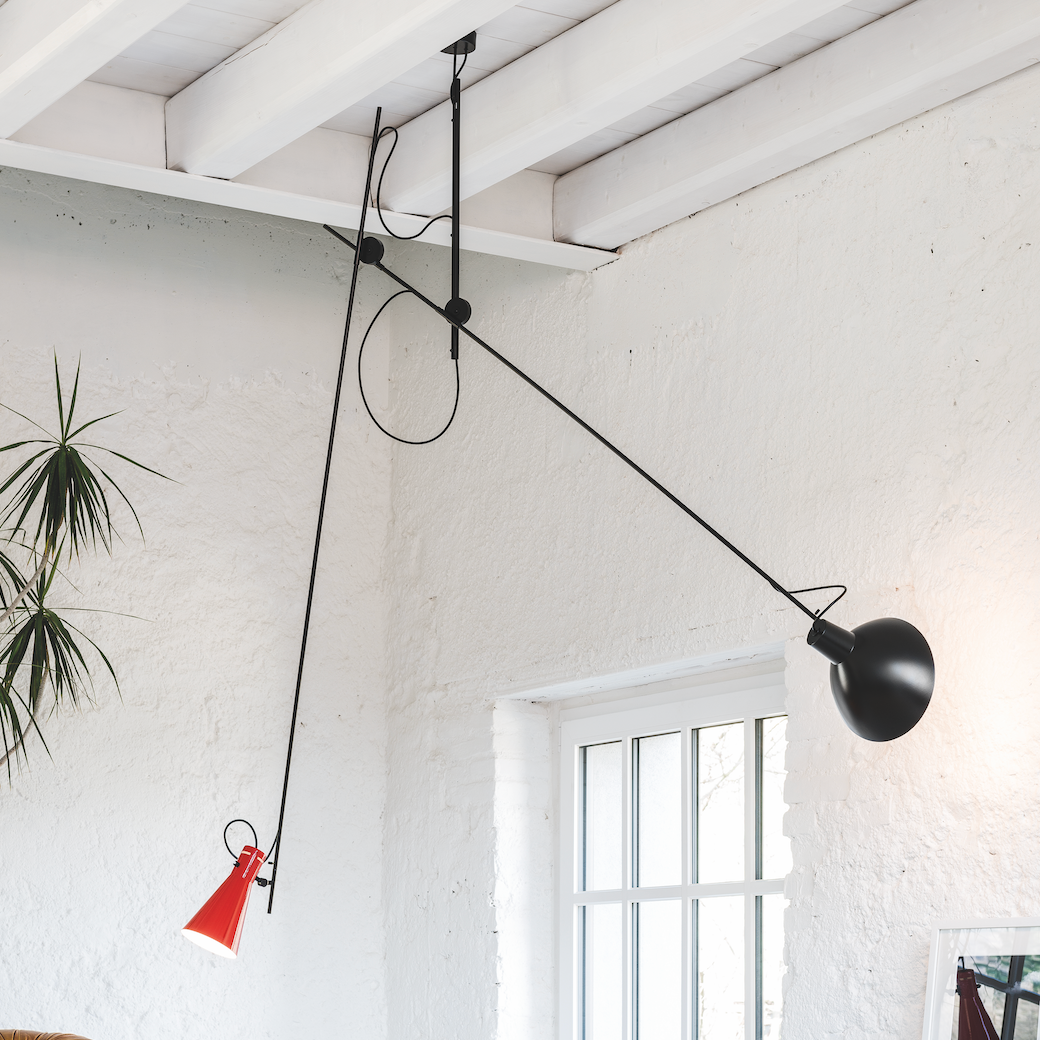 Astep
Alessandro Sarfatti, inspired by his father's belief in perpetual progress, founded Astep, a company intertwining three generations of design ethos with modern lighting technology. With a rich family history in design, Alessandro's grandfather, Gino Sarfatti, revolutionized the lighting industry through Arteluce. His father, Riccardo, alongside his mother Sandra Severi, further innovated by blending design and technology with Luceplan. Astep creates new products for the home – objects that bring digital technologies to the forefront of our domestic lives. In addition, Astep revitalizes iconic works of Gino Sarfatti and Vittoriano Viganò, carrying on the Sarfatti family's enduring avant-garde spirit.

Holiday Shipping
Need it there by 12/23?
If shipping west of the Mississippi, place your order by 12/14
If shipping east of the Mississippi, order by 12/18
We cannot guarantee these dates for delivery to addresses outside the contiguous 48 states.